A Canadian non-profit, the Learning Partnership is the organization behind yesterday's Take Our Kids to Work Day, which for 21 years has been helping Grade 9 students across the nation catch a glimpse of their potential careers and futures (to the minor annoyance of their parents).
Young people across Canada can now get career advice from Drake's barber.
In 2014, The Learning Partnership launched Real Talk, a program dedicated to talking to students about how they made life choices after high school. TLP learned that most students have their post-secondary options and decisions influenced by their school and personal networks. Depending on geography and personal circumstance, these networks can be quite limited, and in general, few would be willing to earnestly admit that there are alternative courses to post-secondary education.
TLP wanted a way to expand the peer networks of young people, and they needed to do it at scale. Enter Tiny Hearts, Toronto's award-winning development house responsible for a slew of Apple-featured iOS apps, and most recently the Next Keyboard.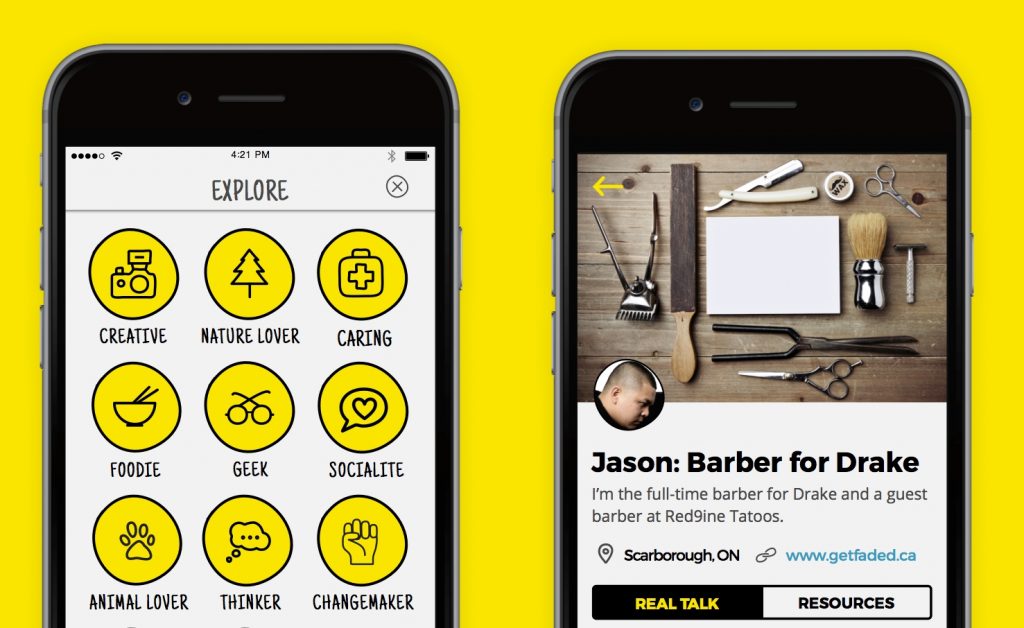 Powered by Tiny Hearts design, The Learning Partnership has launched the Real Talk app, crowdsourcing advice, tips, and resources from young people who have recently transitioned from school to work. Profiles on Real Talk contain a list of resources curated by the author, allowing young people to build their own digital game plan while they bookmark, like, and share careers that appeal to them. Real Talk also sources labour market data and relevant job postings from Workopolis for those young people ready to make the jump.
"From the beginning our approach was to ask 'how might we exponentially increase the number of people students could reach out to for real-life career advice and resources?'" said Tiny Hearts founder Robleh Jama. "We ran several workshops with students and worked with a committee to test and validate multiple concepts before landing on Real Talk."
More important than the feature set is perhaps Real Talk's adherence to the common startup principle that the best mentors are those who have just accomplished what you hope to. To that end, Tiny Hearts and The Learning Partnership have pre-filled the app with profiles and interviews of those that young people might actually look up to: SportsNet broadcasters, professional YouTubers, and yes, Drake's full-time barber. Importantly, Real Talk avoids the trap of only promoting careers that require post-secondary education, allowing users to explore based upon personal interest rather than average yearly salary.
"For the scale and breadth of careers we were looking for, crowdsourcing advice from real life professionals rung a bell and we just ran with it," Jama said. "Our hope is that this app fundamentally changes the way students explore, discover, and pick which career paths to pursue."
Real Talk is available now on the web, iOS, and Android.
Author
Douglas has spent the past ten years writing about and building mobile technology. Getting his start building apps and digital communities for mobile software developers prior to the web 2.0 boom, Douglas leveraged this experience as one of the founding employees for a new media startup focused on mobile tech, running notable publications BlackBerry Cool and QuicklyBored. Douglas spent the next three years building RIM's blogging program as part of their nascent social media team, before scratching the startup itch again, this time with digital conferences and then mobile gifting apps.